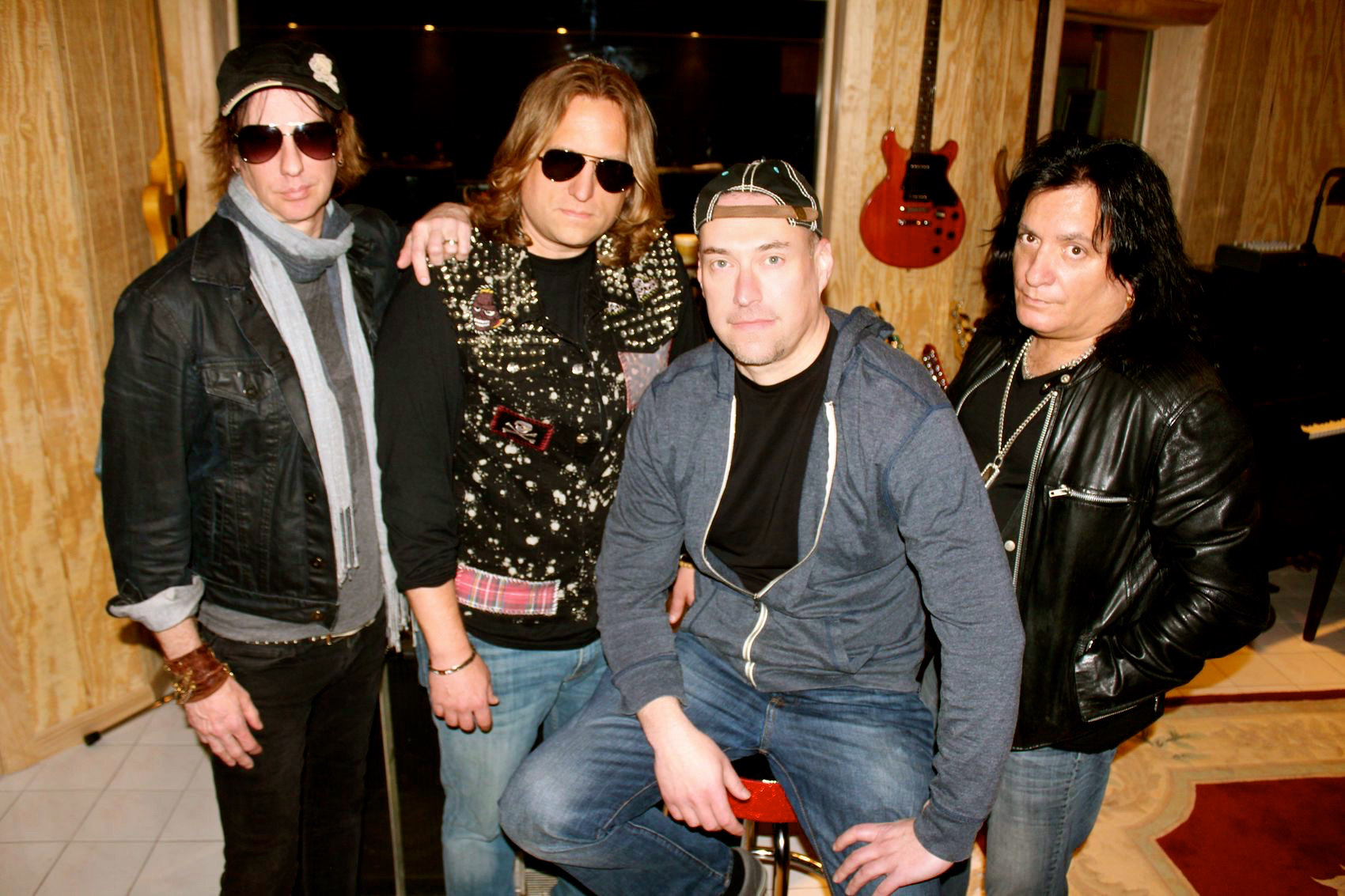 Jimi K. Bones, Mark Duda, Jay MIschel, Bobby Rondinelli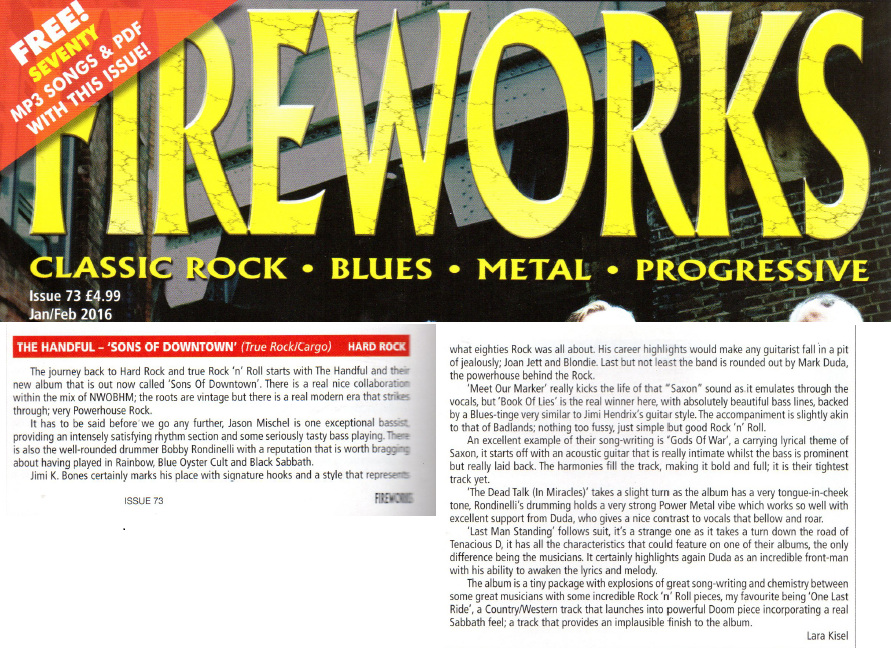 ROCK SOCIETY MAGAZINE FEB, 2016 (www.classicrocksociety.co.uk)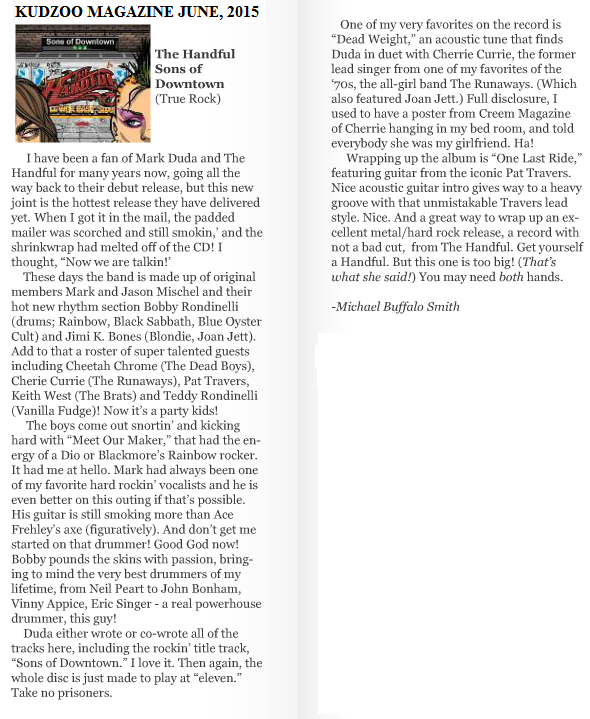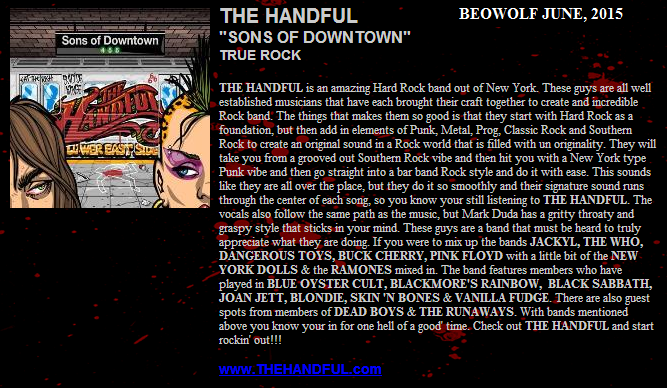 March 2014:
The Handful has selected Sterling Sound in NYC to master "Sons of Downtown." We are thrilled to have Mastering Engineer Steve Fallone and Sterling involved in the final stage of the album.
SEPTEMBER 2013
We are thrilled to announce that

Cherie Currie

(Runaways) has agreed to appear on the new album by The Handful as a guest vocalist. Cherie will be singing a duet with Mark, and Jake Hays will be recording and producing her vocal. We hope to have the song recorded by the end of the month, and to finish mixing the record in October!
JULY 2013
Mark and Jay are proud to announce that world-class drummer, 

Bobby Rondinelli

(Rainbow, Black Sabbath, Blue Oyster Cult),  has completed all 14 drum tracks for the upcoming album by The Handful. In addition, rock legends

Cheetah Chrome

(Dead Boys, RFTT), 

Jimi K. Bones

(Blondie, Joan Jett, Kix),

Pat Travers

, and

Teddy Rondinelli

have recorded guitar tracks for the upcoming release. More big news is coming soon, so stay tuned!!!...
----------------------------------------------------------------------------------------------------------------------------------------------------------------------------------------------------------------------------------------
Review of "Wooden Indian" from The Aquarian:

GRADE = A

Like a chariot storming the gates of Troy, this band digs in. When I first put this CD in my player and heard nothing but ambient noise I got prepared to be bored for the next several minutes. However, these guys had other plans because out of the murmur came the squeal of a guitar with some undeniably bluesy riffs and that lovely Hammond organ sound causing me to exclaim, "Yes!"

You know a band is doing something right when your foot picks up the groove under its own volition. Sometimes overindulgent soloing is just awesome. The solos on the first track aren't the Malmsteen type, but they soar over the all the right parts you know that these guys are about to deliver an aural ass-kicking courtesy of rock 'n'roll.

Let me just harp on the keyboards for a little. I usually think the keyboardist/pianist/organist is completely pointless in a metal/hard rock band. What do they really do? Rhythm? No, bass and drums have that covered. Leads? That's what the guitars and vocalist do. Fills? Anyone can do them. Solos? Sorry, but, keyboard solos are best left in the '70's. However, thanks, Jason Mischel for actually being a tolerable organist. Mark Duda is awesome, I love his voice—it reminds me of Buzz Osborne from Melvins and Ben Ward of Orange Goblin. His voice is undeniably manly but not in an annoying Viking Metal way. It sounds like he gargles gasoline, eats asphalt and washes it all down with nails. It's just that awesome.

It's always so great to review a good band from my native Jersey, one of the most fun things I've heard in a while

In A Word: Swaggering

GRADE = A

—by Dejon Turner, December 1, 2010

http://www.theaquarian.com/2010/12/01/the-handful-wooden-indian/
The Handful - Wooden Indian
(True Rock Publishing - 2011)



-----------------------------------------------------------------------------------------------------------------------------------------------------------------------------------------------------------------------------------
June, 2011
Rockers from New Jersey who's vocalist, Mark Duda sounds like The Cult's Ian Astbury.

H/L's include the opener 'Walk Into The Light' 'The Key' with its excellent chorus and instrumental section; 'Lines Are Down'; the Sabbathy like 'Your Loss Is Freedom'; the excellent ballad that is 'Ashes'; the slow but angstus 'Ain't No Way' with that submarine like ending sound and the closing 'Junkie'

They still mix in the best sounds of ther North, Central and South of the USA.

Excellent as ever.

10/10

By Glenn Milligan

http://www.metalliville.co.uk/bankup/htdocs/CD%20Folder/H-CDS.htm
-------------------------------------------------------------------------------------------------------------------
December 2010 review of "Wooden Indian" from Swampland

The Handful are back with a hard edged new release called Wooden Indian.

The opening track, "Walk Into The Light" falls somewhere between the nastiest Molly Hatchet track and Metallica. It rocks, baby. To quote Spinal Tap, "This one goes to eleven."

Mark Duda is a powerhouse rock singer, and the band just kicks serious ass from start to finish. Say you love the sounds of Taylor Swift? Then you are at the wrong party, baby. The title track, "Wooden Indian" is another good one, just made to be played loud. Great guitar, keyboards, bass and drums. This album rocks.

-Michael Buffalo Smith

http://www.swampland.com/reviews/view/title:wooden_indian

-------------------------------------------------------------------------------------------------------------------
November 2010 review of "Wooden Indian" from Beowulf

THE HANDFUL - WOODEN INDIAN
(14 track CD) THE HANDFUL is an original Hard Rock band based out of the New York / New Jersey areas.
These guy have come a long way since their last release. They play a down right dirty style of Hard
Rock and Heavy Metal. The music reminds me of that gritty sound most biker bar bands have. Very
tight song structures and great song writing all through out. I really dig the grooved out vibe they
have through most of their songs. If you were to mix the best parts of BLACK LABEL SOCIETY,
early AC/DC, early TWISTED SISTER, early JACKYL & early THE WHO, then you'd come up
with a close idea of what these guys sound like. Check these guys out, even if it's not your style,
cause you will soon be rockin' out to them.

http://www.beowolfproductions.com/MusicReviewsNov10.html

-------------------------------------------------------------------------------------------------------------------

From Ball Buster (USA)...
The Handful
Second Hand Smoke
True Rock /Orchard
by P.Grabowski

The vocalist is great. He has one of those voices that can sound like one person on one song and totally different on the next. The guitarist is a total shredder. Overall if you like Rock or Southern Rock and a whole lot in between, The Handful will do it for you. If you don't like these guys you don't Rock.

----------------------------------------------------------------------------------------------------------------------


New Review from ROCKZONE!
Spring 2009

If you're in the mood for some great Southern Rock then do yourself a favor and check out The Handful, and pick up a copy of their latest release.................Second Hand Smoke. The band is from the New York/New Jersey area...and all I can say is that these boys know how to deliver the goods in terms of well, written, well crafted tunes.......There's an element of Lynyrd Skynyrd to The Handful in that they're great story tellers when it comes to their lyrics and songwriting ability.....This is one band that knows how to take you on a magical, musical journey that you won't soon forget........I've also had the pleasure of hearing the band's debut CD which was just amazing in it's own right but on this, their latest release........Second Hand Smoke they have really progressed and jumped up to the next level in terms of both their songwriting and musicianship and that's really saying something because their debut release is just as equally impressive........There's not a bad song on this 14 track disc.....That's the other thing I like.....The Handful not only give you quality music but they give you quanity in delivering a 14 track CD that is just loaded with great music........Believe me if you purchase this CD you will really be getting your money's worth.....Some of my favorite tracks on this Cd include "Gold Digger" , "Disbelievin" , and "I Ain't Seen The Light".

--------------------------------------------------------------------------------

New Review from www.roughedge.com!! 
Rating: 3.5 out of 4
"Second Hand Smoke"
Reviewed by Christopher J. Kelter

Storytelling is such a large part of a quality rock'n'roll band. Sometimes, if the musicians and vocalists are good enough, that's enough to create a good CD.

Fortunately, The Handful has more than enough, judging from their CD, "Second Hand Smoke." This band tells a story better than most of the other bands out there. Storylines are this band's bread and butter and one finely crafted song follows another on this terrific release.

Each tune sucks you in like a good movie or a good book and leaves you in any mood the band wishes to put you in. The Handful remind me of some great story telling bands like Lynyrd Skynyrd, the Rolling Stones or The Who. Yes, this band is that good, period.

--------------------------------------------------------------------------------

New Review from www.metallian.com!!
http://www.metallian.com/news0207.htm#demoreviews :

THE HANDFUL – SECOND HAND SMOKE
Classic mistake: cram as much as possible unto the disc in the hopes of attracting the attention of the powers in charge of the record company or feeding the listener so much that eventually something sticks. The Handful has a handful of fourteen songs on this disc, yet the kicker is that there is not a single weak song in sight. Unbelievable! Gasp! What!! The duo in charge, Mark Duda and Jason Mischel, take influences like Deep Purple, NWOBHM, Thin Lizzy and David Bowie and turn out a great number of rocking riffs, amazing drum beats and entertaining real rock rhythms plus seriously capable singing to boot. Not exactly heavy nor commercial and mindless Second hand Smoke is about honest rock a rolla the likes of which younger bands shun and older bands have forgotten. Email the gents at jrockmgt@yahoo.com or visit www.thehandful.com. - Anna Tergel 

------------------------------------------------------------------------

New 8 out of 10 Review!!
From metalliville.co.uk 
(
www.metalliville.co.uk/bankup/htdocs/CD%20Folder/H-CDS.htm
):
The Handful – Second Hand Smoke

Rock duo from New York made up of Mark Duda (Vocal/Guitars) & Jason Mischel (Drums/Bass/Keyboards/Trumpet) with additional backing vocals from Andrew Duda & Chris Marksbury.

Kinda puts me in mind of The Cult without the gothic overtones but you can't quite put your finger on them as each songs style is slightly different to the last. The instrumental 'Sasquatch' roams into Jethro Tull & ELP territory whereas others like 'Golddigger' are capable of getting stoner on us with a Thin Lizzy sound.

Some of their stuff grinds into the prog bluesiness of artists like Humble Pie with cuts like 'Cut 'Run' with booming riffery that quotes a few Beatle numbers or lyrics from them. Nice ballad in 'Unreal' that has a Pink Floydness about it at times – sorta 'Breath' like whilst closer 'Dead to Me' has a southern rock slant to it.

Interesting outfit that lazy journalists will have big trouble in categorising – you simply can't – they have their own unique ways of style.

Rating: 8 out of 10

By Glenn Milligan 

--------------------------------------------------------------------

New 3.5 Star (out of 4) Review
From Hammerhead E-Zine 
(
http://hammer.hammerheadzine.com/index.php?module=ProdReviews&func=showcontent&id=725
):
The Handful – Second Hand Smoke

Here is a record that I took in knowing it was more of a rock record. So be warned that this is what I said a rock record. Amazingly enough this band can cross over into little metal areas because I'm hearing some old Metal Church type vocals mixed with a more southern twinge. "Come Out and Play" is more up-tempo and is actually a nice catchy opener. "Drowning" is on a darker tip. This is one band that could fit in well with those that dig Soil, COC stripped down a bit, and a more rocked out sound. Remember that there is no big production here so it has rawness to it and they don't throw tons of flash at you they keep it rather simple. "Blood Red" is showing more of the Molly Hatchet type of approach. "Golddigger" does show off some more on fire rock but again it is close to real country lyrics, I'm waiting for a big truck song next. "Disbelievin'" is more of a ballad rock track that shows the band has a sweeter side. Much of this record goes on like the straight up rock solid approach.

------------------------------------------------------------------------------------------

New Bosnian Review of Second Hand Smoke by The Handful
Rating: 8.5 / 10
From Barikada in Bosnia (English Translation)
THE HANDFUL
" Second Hand Smoke" 

-... Judging by the combination of musical heritage and performing style, The Handfull are a completelly original act. Basically, their approach deals mostly with hard rock/rock options, but with many additional elements in between. A narrative method of vocalization also confirms some soul roots, but with modern leanings in the arrangments. Their work also shows the exsistence of a legacy from 90's alter rock as well as today's modern rock approach. There are 14 tracks on album, and I can add that all of them are tight. I wouldn' t reccommend one specific song over another, but from first to the last tract, their album is a positive listening experience. It is also clear, that the duo has a strong musical background. Finally, "Second Hand Smoke", as a album, covers the modern views of both members in each of the author' s own creative way. 

From Barikada in Bosnia in the Original Language

USA akt The Handful cine dvoje iskusnih muzicara - Mark "Dee" Duda, singer-songwriter i Jason Michel, multiinstrumentalist. od 2002. su krenuli sa svojim projektom. 2004. godine izlazi im debi izdanje "Palmistry" koje je, kako glasine kazu, dozivelo veliki uspeh kod publike i tamosnjeg kritickog auditorijuma. Tokom prosle, 2006. godine, objavljuju drugo po redu ostvarenje naziva "Second Hand Smoke".

The Handful su u muzicko-izrazajnom smislu originalan akt. U bazicnoj formi njihov sound najvise odgovara nekakvoj definiciji hard rocka i rocka, ali sa puno dodatnih elemenata. Narativni nacin interpretacije ukazuje na soul korene u njihovom pristupu, ali moderno vidjenje tretiranja aranzmanskih resenja pokazuje da im nije strano ni nasledje alter rocka iz 90-tih godina, kao i onog influentnog novijim vremenom.

Na albumu se naslo 14 numera, koje su medjusobno koherentne. Ni jedna numera se ne izdvaja posebno, ali posmatrano kao celina, sam album poseduje veoma slusalacki prijatnu atmosferu i otkriva jak muzicki background aktera price. "Second Hand Smoke" predstavlja moderno vidjenje rock forme pomenutog dvojca, originalno u autorskom i kreativnom smislu.

http://www.barikada.com/bb_lokner/ostala_scena07/2007-01-16_the_handful.php

-------------------------------------------------------------------------------------------------------------------

From Home of Rock
By Fred Schmidtlein
The Handful
Second Hand Smoke 2007

Here is a rough translation of the German review from Home of Rock. ...
In case Bobby Ingram wants a new singer, for his Molly Hatchet band, look for Mark Duda to be high on his wish list. But who the devil is Mark Duda? Yes, we stand there and look dumb as a load of wash. Mark Duda is one half of the duo, the handful. He sings and plays guitar and writes songs sometimes alone and sometimes together with the other handful half, Jason Mischel who handles the bass, drums, keyboards and trumpet. The handful, never heard of them? Then listen carefully.

Second hand smoke is the second undertaking of the two of them and is comprised of 80% rock and 20% roll and 100% good swagger. Very clever. What's even better behind the cover with the dirt and smog is a skull and fresh hard rock that Mark brought down from heaven and has met and inspired rednecks. I want to say second hand smoke is exactly the sort of southern rock that one for years has wished for from bands but you haven't gotten it from them. Almost modern and still true strong like a hickory tree. Hard and yet flexible, very good melodies sound always intact. Not for nothing, out of these wooden drumsticks keep the beat.

Except for maybe one or two compositions, the CD plays technically perfect and both musicians deserve praise. Also happily where by other musicians studio projects have no perfection these melodies are all believable. Of course there is much of Molly Hatchet to hear in this but also much that is up to date. Also there are two wonderfully beautiful ballads disbelieving and unreal and the CD should receive a lot of playing time.

The biggest portion of second hand smoke rocks hearty and reminds me sometimes of diverse stoner bands. But more timely and refreshing. Jason Mischel has interesting keyboard chords; stays with it and is always tasteful and Mark Duda has one of the best voices in the last years. This man (Mark) will probably never stupidly yellhell yeah Mark's lyrics are too intelligent. He probably won't want the job with Bobby Ingram. Therefore, we will hopefully live to know and hear a complete band named the Handful live.

A helpful tip for southern rockers who enjoy jam and renounce cliche -This is a very strong CD.

Here is the original German review - from Home Of Rock (Germany)

Mmmh. Sollte Bobby Ingram irgendwann einen neuen Sänger für seine MOLLY HATCHET-Band suchen: Mark Duda dürfte ziemlich weit oben auf der Wunschliste stehen. Aber wer zum Teufel ist Mark Duda? Tja, da stehen wir da und gucken dumm aus der Wäsche. Mark Duda ist die eine Hälfte des Duos THE HANDFUL, er singt und spielt Gitarre und schreibt Songs, mal alleine und mal zusammen mit der anderen HANDFUL-Hälfte, Jason Mischel, der wiederum für Bass, Schlagzeug, Keyboards und Trompete zuständig ist. THE HANDFUL... nie gehört? Dann aber hurtig aufgemerkt.

"Second Hand Smoke" ist das zweite gemeinsame Erzeugnis der beiden Hochbegabten und besteht eigenen Angaben gemäß zu 80% aus Rock, zu 20% aus Roll und zu 100% aus "pure swagger". Feiner Humor. Und was noch feiner ist: Hinter dem postindustriellen Cover mit den Dreck und einem Smog-Totenkopf schleudernden Schornsteinen verbirgt sich ganz und gar atemfrischer Hard Rock der Marke "Der Herr warf Hirn vom Himmel, hat damit Rednecks getroffen und mächtig inspiriert". Will sagen, "Second Hand Smoke" ist genau die Sorte (Southern) Rock, die man sich seit Jahren von einschlägig bekannten Bands wünscht, aber vermutlich nie mehr bekommen wird, weil deren Horizont nicht so weit reicht. Beinahe modern und dabei doch bodenständig wie ein Hickorybaum. Hart und trotzdem flexibel, wohltuend melodisch klingend und immer im Takt - nicht umsonst werden aus diesem Holz Drumsticks hergestellt und die Indianer bauten daraus ihre Bögen.
Bis auf ein, zwei etwas schwächere Kompositionen sprüht die CD vor Ideen und Einfällen, technisch perfekt umgesetzt und erfreulich unaufdringlich von den beiden Musikern präsentiert. Erfreulich auch, dass anders als bei vielen ähnlich gelagerten Studioprojekten keine Technik-Freakshow stattfindet, Duda und Mischel setzen ihre Fähigkeiten beinahe schon spartanisch ein und verzichten auf jedes noch so kleine und überflüssige Selbstdarstellungssolo und auf jede Überfrachtung, setzen dafür um so mehr auf Melodien, die so eingängig sind, dass man ein ums andere Mal ein unbewusstes Déjà-vu zu erleben glaubt. Natürlich ist da viel MOLLY HATCHET zu hören, aber eben auch viel, das nach Großstadt und Heute klingt. Dazu noch die zwei wunderschönen Balladen Disbelievin' und Unreal und die CD landet in der Dauerrotation.

Der größte Teil von "Second Hand Smoke" rockt heftig daher, erinnert manchmal gar an diverse Stoner-Bands - nur differenzierter und erfrischender - und lässt die alten Recken blass aussehen. Jason Mischel streut ein paar interessante Keyboardsprengsel ein, bleibt dabei aber jederzeit geschmackvoll, und Mark Duda nennt eine der besten Stimmen der letzten Jahre sein Eigen. Eine Gefahr dürfte glücklicherweise nicht bestehen: Dieser Mann wird wohl nie dümmlich "Hell yeah" brüllen, dafür sind seine Texte zu intelligent. Wird wohl nichts mit dem Job bei Bobby Ingram. Dafür werden wir hoffentlich bald eine komplette Band namens THE HANDFUL live erleben können.
Ein eindeutiger Tipp für Southern Rocker, die auf Jam und Klischee verzichten können. Sehr starke CD.

Fred Schmidtlein, (Impressum, Artikelliste), 02.01.2007 

------------------------------------------------------------------------------------------------------

from HIGH BIAS 
(
http://community.livejournal.com/highbias/?skip=40
): 
By Michael Toland
The Handful
Second Hand Smoke

New Jersey duo the Handful knows what it wants on Second Hand Smoke: to rock, unambiguously. Singer/guitarist Mark Duda wails like Ian Astbury with some self-control, while multi-instrumentalist Jason Mischel provides the solid bedrock on which Duda can strut. The pair's hearts are firmly in the 70s; tunes like "Three Sheets," "Feet to the Flame" and the fundamentalist-baiting "I Ain't Seen the Light" revel in Me Decade-inspired licks, rhythms and attitude. "Sasquatch" even pays tribute to the Edgar Winter Group's long-gone hit "Frankenstein," though the addition of Mischel's trumpet licks shows a forward-thinking mind lurking under the nostalgia. Not bad, not bad at all. Michael Toland 

----------------------------------------------------------------------------------------------------

from GRITZ 
(
http://www.gritz.net/subscribers_area/features/quarters.html
): 
The Handful
Second Handful Smoke

Oh, I get it! It's The Handful's second album, "hand" refers to The Handful, and the CD smokes! Creative guys. Really creative. Our favorite... rock duo Mark Duda and Jason Mischel have released a CD that actually tops their excellent freshman release Palmistry. There's an increased level of maturity behind the crunching guitars, from the opener (obviously a concert opener) "Come Out and Play" to "Golddigger" to "Dead To Me," to my favorite the hard rocking instrumental "Sasquatch," a tune I immediately added to my iPod for those rock-n-roll road trips. Not just a Handful, but a couple of fists full of molten lava, quick-cooled to a rock hard solid groove. 

---------------------------------------------------------------------------------------------------------------

from BEOWULF 
(
http://www.beowolfproductions.com/MusicReviewsNov06.html
): 
The Handful
Second Hand Smoke

THE HANDFUL come to us from New Jersey & play some real decent sounding Rock & Roll. They blend in some elements from Classic Rock, Hard Rock & Pure Rock music. There is a bit of a Southern Rock vibe happening in their sound at times too. The music is really tight & solid sounding. These guys could be played on a lot of the Rock music radio stations today. The vocals are done in a mid ranged throaty Rock style with some more Classic Rock melodic styles mixed with in. If you like some good old Rock & Roll then look no further these guys have what you need. 

--------------------------------------------------------------------------------------

from NEW ARTIST RADIO 
(
http://www.newartistradio.net/cdreviews/dark/the_handful-second_hand_smoke.htm
): 
The Handful
Second Hand Smoke

The Handful's cd Second Hand Smoke came in the mail today, it has been raining and snowing here for the past few days. I would have loved to take a ride with this music but I will have to wait till the mud is tacky enough so it wont drag me down! They are on my ipod and ready to Rock & Roll at the first chance!

I liked this cd, it had a dirty rock sound that reminded me of 80's & 90's rock, fast and nasty with clear poetic lyrics that worked the music like a a pair of ace's.

The songs that caught my ear were Come Out and Play the first song on the cd had a straight forward way about it with memorable lyrics. Feet To Flame was another song that's gritty dirty sound was tight. Unreal gave away to a softer more defined rock sound, this song will stick to your soul. I found the song Dead To Me to be my favorite song on this cd, this band makes there own sound out of it.

I would recommend this cd to anyone that likes their rock gritty and dirty with a sound of it's own.

--------------------------------------------------------------------------------------------------------------------------------------

Rating: 4 out of 4 Stars
from IMPERIUMI  (Finland)
(
http://www.imperiumi.net/alb_2.php?id=5578
): 
The Handful
Second Hand Smoke

Pohjois-Amerikan länsirannikolta kotoisin olevan The Handfulin juuret ovat selkeästi klassisen hard rockin aluskasvillisuudessa. Zeppelinin, AC/DC:n ja Uriah Heepien sun muiden vaikutuksen voi toki bongata miljoonalta muultakin yhtyeeltä, eivätkä esimerkiksi Come Out And Playssä ja Golddiggerissä kuultavat vielä perinteisemmän rockin suuntaiset vibat tee The Handfulista ainakaan sen omaperäisempää. Varsin suoraviivaisen rock'n'rollin kanssa tässä ollaan siis tekemisissä. Kun erittäin tavanomainen, oikeastaan täysin mitäänsanomaton tuotanto vielä viilaa biiseistä sen hienoisenkin vaihtelun, ovat kätösemme täynnä juurikin Second Hand Smokea; kevyttä ja arjenharmaata, valmiiksi kierrätettyä rockia.

Vokalisti Mark Dudan äänestä löytyy kieltämättä aavistuksenomaista rokkirosoa, eivätkä miehen maneerit muutenkaan ole sattumanvaraisia. Persoona ja tunne jäävät kuitenkin ikävästi karaoke-tasolle. Selkeästihän tuo yrittää, kuunnelkaa vaikka levyn rauhallisimpiin biiseihin kuuluva Unreal, mutta fabrikoitu kurkkuääni ei yksinkertaisesti kanna muuten kelvollista kappaletta. Samaa voisi sanoa Disbelievin'-veisusta, joka sekin on levyn rauhallisempaa linjaa. Siinä mies yrittää vallan rentoilla ja kurkottaapa siinä sivussa myös falsettiääniin. Rennosti rullaava, hieman Dire Straits -henkinen biisi, mutta laulusuoritus on kaukana siitä, mitä se voisi olla. Vauhdikkaammissa vedoissa suoritus on siedettävämpi. Tai sanotaan vaikka niin, että niitä vauhdikkaampia ralleja ei olisi voinut pelastaa edes loistokkaalla laulusuorituksella.

Parempiinkin levyihin olen tosiaan aikaani tuhlannut. Jos tunnet kuitenkin vetoa 70-lukulaisesti henkivään, tänä päivänä kenties muodikkaaseenkin rockiin, The Handfulia voidaan suositella varauksella. Itselläni radiokanava tosin vaihtuisi välittömästi kaikkien muiden biisien paitsi jo mainittujen Unrealin ja Disbelievin':in kohdalla. Oikeastaan voimakkain tämän levyn herättämä tunne on myötähäpeä. Vähän kuin katsoisi kadulla parikymppisen nuorukaisen ottavan rehellisessä nyrkkitappelussa turpiinsa kävelykeppiin tukeutuvalta 80-vuotiaalta. Juoksisi nyt edes karkuun, saatana!

Antti Korpinen, 19.11.2006

OK, so we can't read Finnish, but it IS a 4-star review. If anyone out there can translate it for us, we'll hit you up w/ a free copy of 2HS, so step up!!